Shop To Help Hog Heaven
Note Cards
Note cards with envelopes are $2.00 each and the postcards with envelopes are 4 for $5.00. Shipping and Handling additional. E-mail Cookie with your order and for shipping cost to your address. We have birthday, sympathy, numerous holidays, etc. Ask Cookie about what you're interested in. Cards feature animals from Hog Heaven Rescue Farm either adopted or seeking homes and a few who have crossed over Rainbow Bridge.
Crosses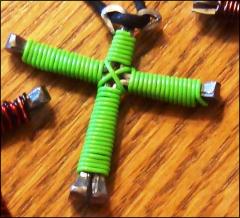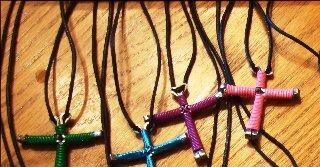 Beautiful crosses made of 4 horseshoe nails and colored wire. Necklace is made of black leather. These are well made and very nice. Photos do not do them justice. Order one or more today and help the animals. Order from Regina or David. $10.00 each plus S&H. E-mail Cookie with your order
T-shirts and hoodies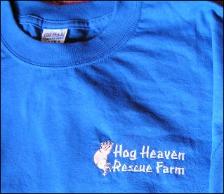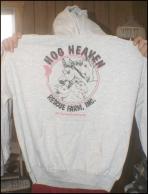 Khaki "T" with large logo. Blue "T" with small logo. Either for $15.00 each for S, M, L, XL - 2X and 3X $20.00
Grey "Hoodie" with Hog Heaven logo $30.00 each for S, M, L, XL - 2X and 3X $35.00 each
All "T"s and "hoodies" require additional S&H. E-mail us with your order
Hats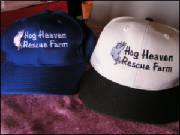 Embroidered Hog Heaven Rescue Farm hats 12.00 plus S&H.
E-mail Us with your order
Merchants that help Hog Heaven Rescue Farm
Hog Heaven Rescue Farm, Inc. now has an eBay account and if you click on the "Mission Fish" button (below) it will take you to our sales page. 100% of the proceeds from there benefit the animals. There are also instructions on how you too can sell to help us. The remaining banners take you to other merchants who offer a percentage of the sale of their items to benefit Hog Heaven Rescue Farm.
Please visit our Links and Donor pages to see our other supporters who have services to offer. (Down Under Saddle, Co-Walmart, and more)